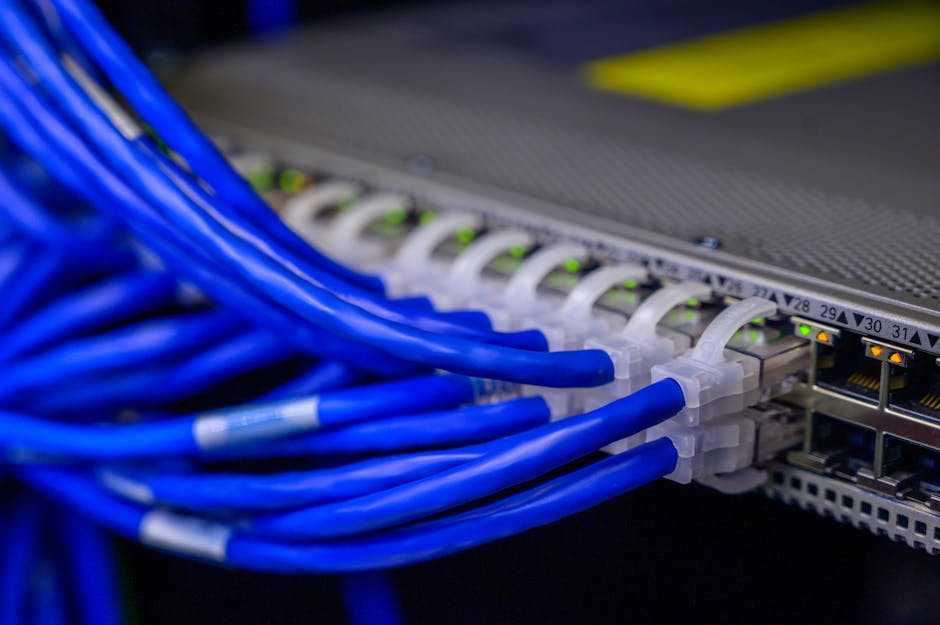 Do you find that your internet connection is slow in your office? Maybe you're looking for a new internet service provider. This is a great time to calculate your network bandwidth needs.
Most Americans don't like their internet service provider, and there are many reasons why. It could be because customer service is nonexistent. The ISP could have incredibly slow service. You may have chosen the wrong internet plan and not know it.
Understanding your bandwidth needs ensures that you sign up for the right service plan. This way, you know you won't have to blame yourself if you're unhappy with your internet provider.
Read on to learn how to calculate how much bandwidth you need.
What is Network Bandwidth?
When you connect to the internet, you are placing a demand on servers and your service provider's network.
Let's say you want to visit a website. You send a command (a click) through your WiFi and modem. That command travels through your ISP's network, to the internet, and to the website's servers. That site's servers will then send the site's files, images, content, and code.
Your web browser will then turn those files and code into a web page. All of that happens in under a second. How amazing is that?
Think of the internet like a plumbing pipe. The more stuff that tries to flow through the pipes, the slower the flow becomes.
The internet works in a similar fashion. Every time to send and receive data, that data flows through the pipe so to speak. The size of the pipe can be thought of as bandwidth. A large pipe will be able to handle much more data than a small one.
How to Calculate Your Bandwidth Needs
You might be tempted to just sign up for the plan that has the most bandwidth and be done with it. That's actually a bad business decision. You may sign up for much more bandwidth than you need, resulting in a waste of money.
You want to have plenty, and you don't want to pay for more than you have to. It's a tricky balance to find. Here's how you can tell how much bandwidth you need to get it just right.
What's Your Current Internet Speed?
First of all, you want to make sure that you're getting what you're paying for. Internet service providers offer plans with various internet speeds.
For example, a plan with speeds of up to 50MBPS is a plan that offers downloads speeds of up to 50 megabytes per second. Providers never guarantee that will be your internet speed, but they'll get close to that number.
You can test your speed by using several websites like Google's internet speed test and Speedtest.net.
You want to test your internet speeds at various points during the day and run tests on several devices. Testing early in the morning when few people are online will give you different results than at 3 pm when everyone is busy working.
Testing on several devices will rule out the possibility of a slow computer or tablet being the cause of a slow connection.
Now that you have some results, take a look at your last internet bill and see what plan you have. At the very least, the numbers you have should come close to the plan you signed up for.
How Many Devices in the Office
How many employees do you have? You can bet that each employee will have several devices that need to be connected to the internet.
They'll have a desktop computer, a mobile phone, and either a tablet or a laptop device. Most of these devices will be hooked up at the same time, placing demand on your network bandwidth.
Your Bandwidth Needs
You may have very basic needs. You may have to connect to the internet for website research, email, and for sending documents.
On the other hand, more offices are becoming connected for everything. These offices use voice-over IP for phone connections, video calls, and they have email and cloud computing, too. In this case, you'll have a greater demand for bandwidth.
The best thing is to do an audit of your office. Ask your employees how many devices they have, and what they typically use (cloud solutions, video calls, email, large files, etc.).
That will give you an idea as to what your bandwidth needs are.
Your Budget
Of course, internet access isn't free. You do need to budget for it accordingly.
Internet access is a critical business expense. Your business simply cannot run well without it. You may be tempted to go with a lower plan because it's less expensive.
That cost-cutting will cost your business in lost productivity and slower service. This will have a far greater impact on your business than spending $100 a month more on a good internet connection if you need to.
Search for Providers
The last step of meeting your network bandwidth needs is to find an internet service provider.
Providers will offer different types of internet access for businesses. Some of the more common ones are fiber, cable, and DSL.
The difference lies in the type of wires that service providers use to connect your business to the internet. DSL uses copper phone wires, which can carry so much data.
Fiber optic lines, like the ones offered by Shentel business fiber, tend to handle much more data, thus giving you more bandwidth.
Finding the Network Bandwidth Needs for Your Business
Your business depends on your connection to the outside world in order to function. When your business doesn't have the right amount of network bandwidth, you're either wasting money or losing productivity.
You have to calculate your needs to get it just right. You can do that by running speed tests and conducting an audit of your internet needs. You can then find the right internet service provider that has the right plan for your business.
Do you want more great business news? Check out this site again for the latest local and business news.
Information contained on this page is provided by an independent third-party content provider. Frankly and this Site make no warranties or representations in connection therewith. If you are affiliated with this page and would like it removed please contact pressreleases@franklymedia.com