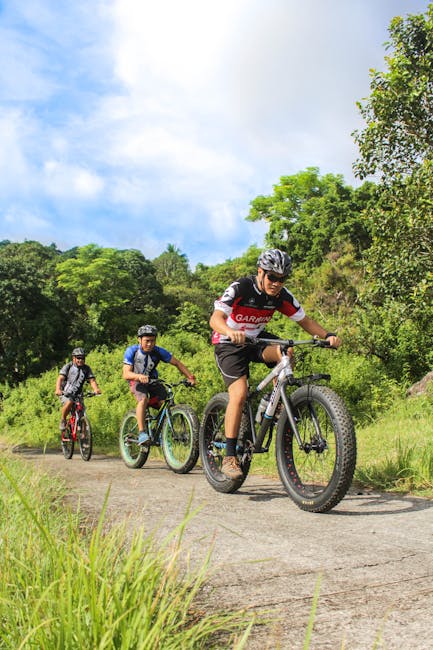 In 2014, about 104 million Americans rode a bike at some point during the year.
Some people enjoy riding for leisure. Some people do it as an easier, eco-friendly way to commute. Others love the thrill of mountain biking.
If you've never bought one before, it's important to do your research before buying a mountain bike. Keep reading for tips on how to buy your first mountain bike.
1. Make Sure You Buy the Perfect Size Bike
Bikes come in all kinds of different shapes and sizes, so you want to make sure you find the perfect one just for you. Getting the right size frame is probably one of the most important aspects of buying a bike.
Brands have been switching their frame sizing to small, medium, and large instead of using numbers. However, there isn't really a standard size of what a large or a small actually is. That means the sizes can vary between brands.
Instead of trying to base off a measurement, you should just make sure that the bike is right for you.
First, see what the difference is from the seat to the handlebars. And then check the distance from the mid-head tube to the center of the crank. For a road bike, you should go a little bit longer for these measurements.
If the triangle is longer, that means that the weight will be more evenly distributed so that you don't get launched over the bars if you get into an accident.
In addition to keeping you safe, it will also help you when biking up hills by keeping your front wheel on the ground.
2. Full Suspension vs. Hardtail
Next, you will need to decide between a full suspension vs. a hardtail bike.
A lot of the mountain bikes out there have a built-in suspension which will help the bike navigate through rough terrain. It can also help you go up and down hills while also maintaining some good traction.
A full-suspension bike will also absorb a lot of the shock when you are doing jumps and land on the ground.
Hardtails, on the other hand, have a rigid rear with a set of forks. They don't bounce as much, so they don't absorb as much of the shock as a full suspension would.
However, they are great at climbing mountains, and they are efficient at pedaling as well.
If you are going to be doing a lot of trail riding, a hardtail bike would probably work just fine. It's also a more affordable option if this is your first bike and you're just getting into the sport.
3. Decide Which Type
There are all kinds of different bikes out there, so you'll need to figure out which type of riding you'll primarily do. Some options include:
Mountain Bikes
Mountain bikes are designed for all kinds of different riding.
The biggest difference in this type of bike is the shape that the frame is built-in. The head angle and the seat tube angle are unique to help you ride comfortably on any type of terrain.
Cross-Country Bikes
Cross-country bikes are also very popular, and they are normally really lightweight as well.
They have a minimal suspension system that helps you go faster for racing. The design of this bike will help you go faster and help you with more efficient climbing.
4. Determine Your Budget
You'll also need to figure out how much you want to spend on a bike.
The cost will vary greatly, depending on what type of bike you get and what brand you buy. They can cost anywhere from $200 to $13,000.
This is why it's important to know how much you're willing to spend on a bike. You can always buy an entry-level, budget bike and then work your way up as you get more experienced and learn more about the sport.
5. Try Before You Buy
Another thing you should make sure you do before you buy a bike is to try it out.
Once you've got your budget ready, you should head to the stores. We recommend buying locally instead of online so that you can see the bike in person and really get a chance to try it.
You can buy either used or new, but you should still try it out. Ask the stores if you are able to take it for a test ride in the parking lot.
This will help you narrow down your choices for what your new dream bike will be.
6. Think About the Wheel Size
Another important thing to consider when buying a bike is the size of the wheels.
A wheel with a diameter of 27.5 inches is normally for aggressive trails or riding downhill. A wheel with a 29-inch diameter is more for trails or cross-country. If you are going to be going through muddy waters or rough terrain, you may want to get a 29-inch diameter wheel.
The bigger wheels will become more and more popular as time goes on, but the choice will depend on what feels comfortable to you and what kind of riding you plan to do.
All sizes of wheels have different types of benefits.
7. Check for Quality, Not Quantity
Lastly, make sure that you check for the quality of the bike and the parts rather than the quantity or other shiny objects.
Make sure you check reviews on the shocks and forks of the bike that you're looking at. Those are the most important aspect to consider.
Sometimes you can buy a bike of a certain model but some of the parts will be replaced with other, lower quality brands.
Making sure the pieces are of high quality first will ensure that your bike lasts longer.
Buy Your First Mountain Bike Today!
Your first mountain bike could help you fall in love more with the sport and get some great exercise as well.
As an exercise, biking has so many great benefits like decreased stress levels, improved cardiovascular health, and improved mobility.
To learn more about how to maintain a healthy lifestyle, make sure you check out some of our other blog posts!
Information contained on this page is provided by an independent third-party content provider. Frankly and this Site make no warranties or representations in connection therewith. If you are affiliated with this page and would like it removed please contact pressreleases@franklymedia.com