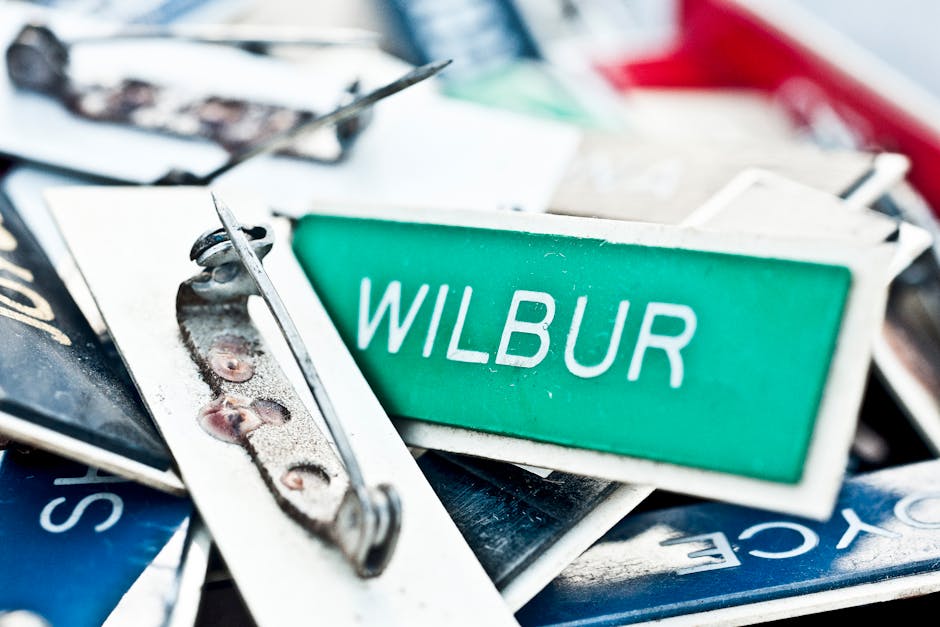 Originally posted on https://www.nbc-2.com/story/40934891/10-best-practices-for-conference-name-badges
Do you have a conference for your business coming up aimed at increasing the awareness and reach of your brand? Is one of your priorities for this event creating relationships between attendants and your team?
If so, then we recommend giving your staff conference name badges. However, there are certain steps that you need to follow to make sure that these badges look professional, grab attention, and allow the wearers to build relationships with the right people.
With our tips on conferences and brand recognition, you will be able to use these badges the right way.
Here are the 10 best practices for conference name badges.
1. Find Your Style
The kind of event name tags you go with may depend on how you want it to look, feel, or stay on the wearer's shirt. Stickers are among the most common options if you want to save money and make wearers feel comfortable.
You can also go with magnets or clips if you want to add professionalism to the event. It helps to make sure that these badges won't leave holes or stains in shirts or be difficult to take off to the point where it might cause a tear.
2. Include the Right Information
Name tags for conferences should include more than just the wearer's name if you want to make a good first impression. Contact information and positions help give the wearer's a reliable identity.
It also helps to include this information from name tags when working on ticket sales and RSVP. This gives people a second source of information in case they want to continue discussions in the future.
3. Pick the Right Size
Another factor to consider when establishing name tags for corporate events is their size. They can't be too big to not have a strong grip on the shirt or be uncomfortable to wear.
Badges must also not be too small to the point where it's hard to read what's on them. They have to be big enough to include space for all of the necessary information.
4. Market Your Brand with Conference Name Badges
The best name tags are those that introduce people to your brand. You can include your logo in the right spot on the badge so that people can become interested in what you have to offer.
The logo and company name don't have to be in the middle of the badge. You can include them in one of the corners so that people are just as interested in the person's name as the brand.
5. Consider Two-Sided Badges
You may not be able to decide which information is more important to include on your name tags. If you can't come down to a choice, then it might help to use both sides of the badge.
One side could have the person's name and contact information, while the other side could have the company's information. It might help to include a mix of both on one side so that other people become interested and you can show them the other information on the other side.
6. Check Over Legibility
When it comes to creating name badges, one of the things you have to avoid the most is a lack of legibility. You don't want people to read your badges and find spelling errors or writing that isn't clear.
You can avoid this by simply checking over spelling in designs before you create the final product. Not including positions or titles such as MA or Ph.D. may also help you focus just on the names.
7. Place Badges at the Right Spot
When you're not focusing on how the badge looks, you need to understand where it needs to be for wearers to get recognition. This is why we recommend putting them at different spots to compare options.
The most reliable spot is above the right breastbone so that people see it when they shake your hand. It might help to shift it around, depend on how big the shirts are or what kind of shirt wearers go with.
8. Focus on the Event
One way that you can have your badges stand out is by designing it based on the conference you're holding. This will allow attendees to be focused more on what's going on at the moment then what previously happened or what could happen with your company in the future.
You can include colors and patterns from the same design as the building or your company. A combination of them all can give your tags a unique look that people will remember.
9. Include Interesting Content
Your name badges can benefit from more than just the logo of your company and the name of the wearer. Adding other content such as photos can give these tags an identity.
It's important to find the right spot for the photo of the wearer so that there is still room for other information and nothing gets cluttered up. This content can also help other people easily remember the wearer.
10. Buy in Bulk
Saving money can be a challenge with organizing an event, even with buying products as small as name badges. That's where buying in bulk for your tags comes in handy.
Buying in large quantities gives you money to save for future events, whether it's for badges or other material. We also advise stocking months in advance of your current event and a year ahead of the next one.
Our Take
Conference name badges allow the wearer and the company holding the event to spread their recognition. However, it is important to give these badges the power to guarantee this result.
Your badges must have the right design, include the right information, and be as easy to read as possible. With these tips, you will make a great impression on everyone who shows up to your event.
Check out more of our conference expertise to understand how to make these occasions work for you and your brand.
Information contained on this page is provided by an independent third-party content provider. Frankly and this Site make no warranties or representations in connection therewith. If you are affiliated with this page and would like it removed please contact pressreleases@franklymedia.com