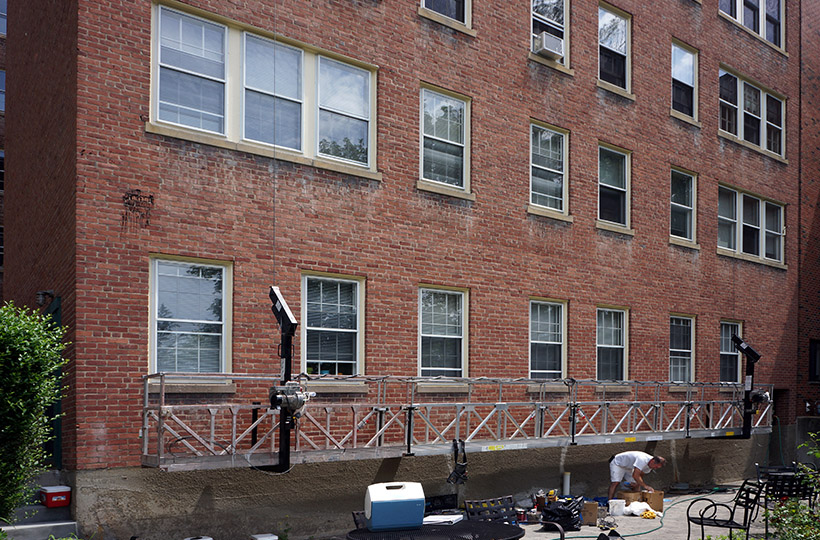 Originally posted on https://www.catchlightpainting.com/commercial-painting-square-foot-pricing/
Property and facility managers are tasked with contradictory priorities; maintaining a property to optimal effect (satisfying the expectations of the tenant and/or owner) while prioritizing the bottom line. As a property or facility manager, you know that first impressions are critical.
In a space populated with fly by night operators and technical incompetence, keeping your commercial building looking its best is of the utmost importance to both your own and your company's success.
The problem is you likely have a limited budget for projects that maintain and beautify your commercial space. Knowing what to expect in terms of cost can help you move forward in painting your commercial property at the right time.
How Much Paint Will You Need?
You are painting walls and you need to determine wall space. This is done by multiplying the length of each wall by its height and adding them together.
In an office that is 14' wide x 14' length x 9' high, this equals 504 square feet of wall space. Where windows and doorways interrupt the wall, simply deduct the square footage.
Most paint manufacturers advise that on smooth surfaces in good condition their paint covers roughly 350-500 square feet per gallon. It's a good idea to lower that square foot coverage a little to make sure you have enough paint, then, multiply the coverage by 2 or 3, depending on the amount of coats your project will need.
We always recommend keeping extra paint for the inevitable touch ups your walls will need down the road.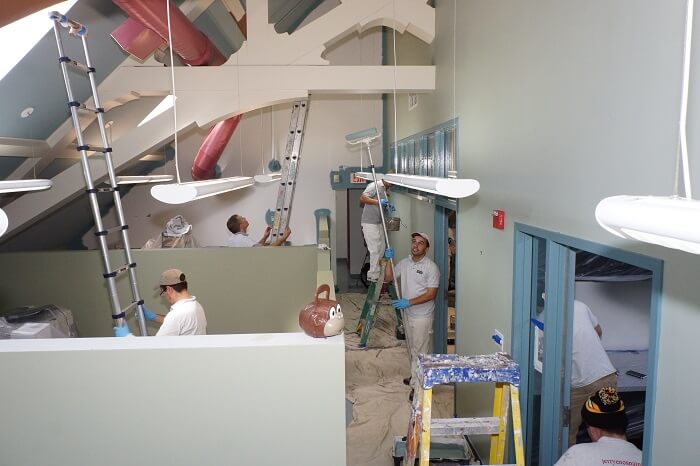 How Much Will I Pay for Labor?
While an onsite visit gives a contractor a more accurate labor cost estimate, there are guidelines that are used to help determine labor costs.
A professional painter should be able to paint the walls with a two-coat painting system in a regular office (14' wide x 14' length x 9' high = 504 square feet) in about 3.5 hours of time. An average painter should be able to cover about 150 square feet an hour. If you divide 504 by 150 you get 3.36.
A painting contractor will charge between $65-$80 per hour with today's rates, taxes, and insurance.
Keep in mind that the painter has to cut in clean paint lines along all the edges of the room (ceiling, baseboards or floor, doors and window frames, etc.) using a brush, and then roll the walls two separate times with a paint roller (in vacant or new facilities, sprayers may be used to go faster).
The cost of painting the walls with a typical brush-and-roll two-coat paint system should be around .45 cents per square foot.
Note: This pricing structure doesn't include work that will increase labor costs including:
Extra masking or protection of furnishings and flooring
Priming major prep work (peeling paint, large cracks or holes)
Paint materials (quality and prices vary)
Major furniture moving
Logistics parking/unloading/loading challenges,
These all need to be identified and will add to the labor cost. Sometimes, photos are enough to provide for an accurate proposal, but other times it's best to schedule an onsite estimate for a visual inspection.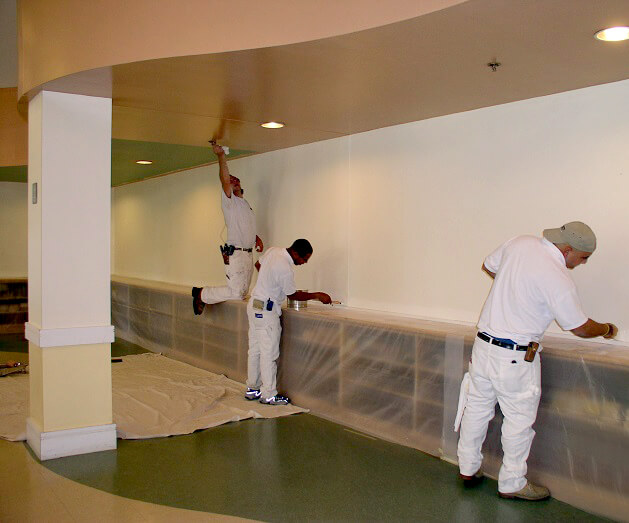 Do You Charge More for a Higher Quality Paint?
Yes. Pricing varies dramatically between paint manufacturers. Some manufacturers may charge as little as $14 per gallon but we would advise against trying to save money on the actual paint paint should be washable and durable; entry-level paint will be neither.
However, the average cost for a good quality interior paint that will hold up to washing, will touch up well, and last for many years is around $45 per gallon.
Can We Supply Our Own Paint?
Yes, but best to put this on the contractor who then assumes all liability for quantity, issues around mis-tints or the wrong color being supplied, even quality control issues (rare but not unheard of).
What about Holes, Dents, and Other Needed Repairs?
A seasoned painter will expect to find a few hairline minor cracks and nail holes, so it's safe to assume to they will include those repairs in standard preparation and price.
Large cracks and holes, or poorly repaired drywall cost extra because of the amount of labor it takes to repair these areas. This will usually be identified and discussed during the onsite visit.
Let's Get Started On Your Commercial Project
Catchlight Painting is a fully-licensed, insured, and dependable commercial painting contractor and adheres to all OSHA and EPA lead-safe regulations. We offer property owners and managers professional and courteous service from skilled and uniformed painters.
Contact us today to discuss your project or to request a complimentary estimate.
Information contained on this page is provided by an independent third-party content provider. Frankly and this Site make no warranties or representations in connection therewith. If you are affiliated with this page and would like it removed please contact pressreleases@franklymedia.com