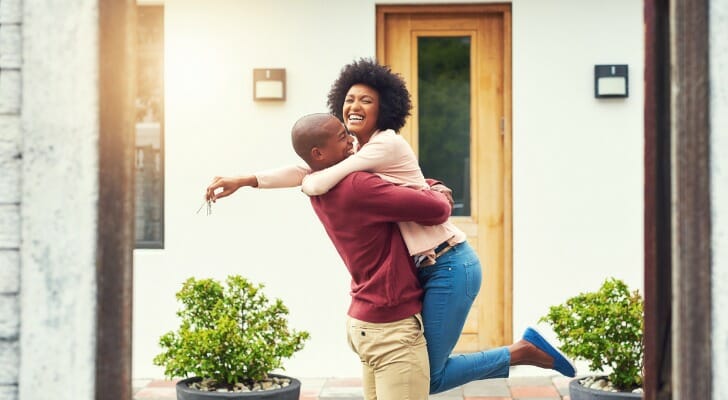 The American housing market has changed significantly since the post-recession economy of the early 2010s. Zillow estimates the median home in the U.S. is worth $225,300, up from $148,000 in January of 2012. That is a gain of more than 52% in just seven years. If you do want to take advantage of this seller's market and maximize your savings, it's important to know not only national trends, but what is happening in local markets as well.

Below, we look at Census Bureau data to rank the top 10 rising housing markets in America. To do this, we utilize the following three metrics: the five-year percentage point difference between population growth and housing growth, the five-year change in home values and the five-year change in median household incomes. The Data and Methodology section below shows our sources and how we put our data together to create our final ranking.
Key Findings
Rising markets populate California Six of the top 10 rising housing markets are in California, amid its current housing affordability crisis. In two of these cities, the median value of homes increased by greater than 40%.
A mix of non-Western cities rank at the bottom Only one Western city La Cruces, New Mexico ranks in the bottom 25 rising housing markets. Other than that, the bottom is a mix of Southern, Northeastern and Midwestern cities.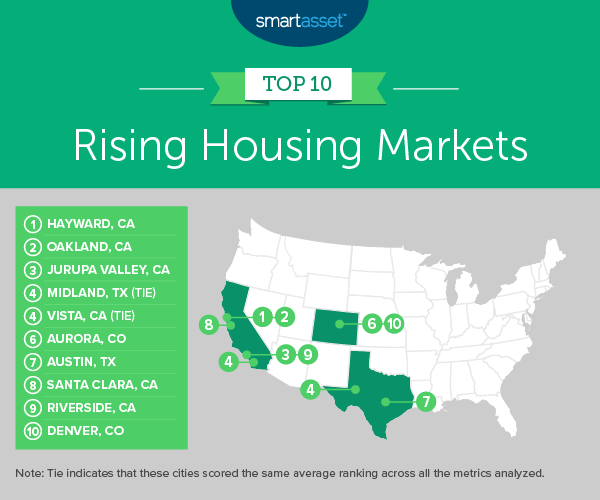 1. Hayward, CA
Hayward, a San Francisco Bay Area city, saw an increase in homes values from 2013 to 2017. In total, the average home grew in value by 43.7%, up from $325,100 to $462,200. The population outgrew the number of new housing units by 6.53%, meaning demand for housing is likely to rise.
2. Oakland, CA
That Oakland, another San Francisco Bay Area city, occupies the No. 2 spot may not be a surprise given the California housing crisis. Home values in Oakland rose by 31.62% during the five-year period we analyzed. While affordability is certainly an issue, the average household also saw its income rise.
3. Jurupa Valley, CA
Jurupa Valley is located in Southern California, just outside of Riverside. This is another city where the number of new residents outpaced the number of new housing units, meaning the ratio of housing units to persons decreased. Overall home values increased by 41.18% between 2013 and 2017, according to estimates from the Census Bureau. That gives Jurupa the seventh-largest increase in home values in the study.
4. (tie) Midland, TX
The first non-California city on the list is Midland. From 2013 to 2017, the population increased by 16.1%. Over that same time period, the stock of housing grew just 9%. That leaves a lot of newcomers competing with residents for a relatively smaller stock of homes. That clash of supply and demand usually results in an uptick in price. Midland incomes also rose by the eighth-largest amount in this study.
4. (tie) Vista, CA
Tied with Midland is Vista. In this city, incomes rose by more than 26% from 2013 to 2017. Only one other city saw faster income growth than Vista. Over the time period we analyzed, the median home increased in value by 24.49%.
6. Aurora, CO
Colorado is a great state to own a home thanks to its low property taxes. But increases in home values could also make it a good place to sell. Data from the Census Bureau shows that population and income growth numbers for Aurora rank in the top 40.
7. Austin, TX
Austin saw its population grow an impressive 13.28% from 2013 to 2017. The good news for homeowners and bad news for renters is that housing supply did not exactly keep up. New people outgrew new homes by just under 6%. From 2013 to 2017, the median home value in Austin grew by 29.66%, a top-40 rate.
8. Santa Clara, CA
Lying in the heart of Silicon Valley is Santa Clara, the eighth-ranked city. This is another city where access to important job markets has made it a desirable place to live. Over the five-year period we analyzed, the median home value in Santa Clara rose in value by 35.62%. The population grew by 6.89%. However, the number of housing units increased by only 2.12%.
9. Riverside, CA
Riverside makes it six California cities in the top 10. The median home here saw its value rise by 35.31% from 2013 to 2017, making this the 13th largest change in the study.
10. Denver, CO
Denver's population rose nearly 12% from 2013 to 2017. It's a popular city among young Americans, and ranked as the eighth most popular destination for mobile millennials. Increase in population often puts upward pressure on home values, but the data for this study shows that for the most part, incomes in Denver are rising. From 2013 to 2017. the median household income in Denver grew by more than 19%.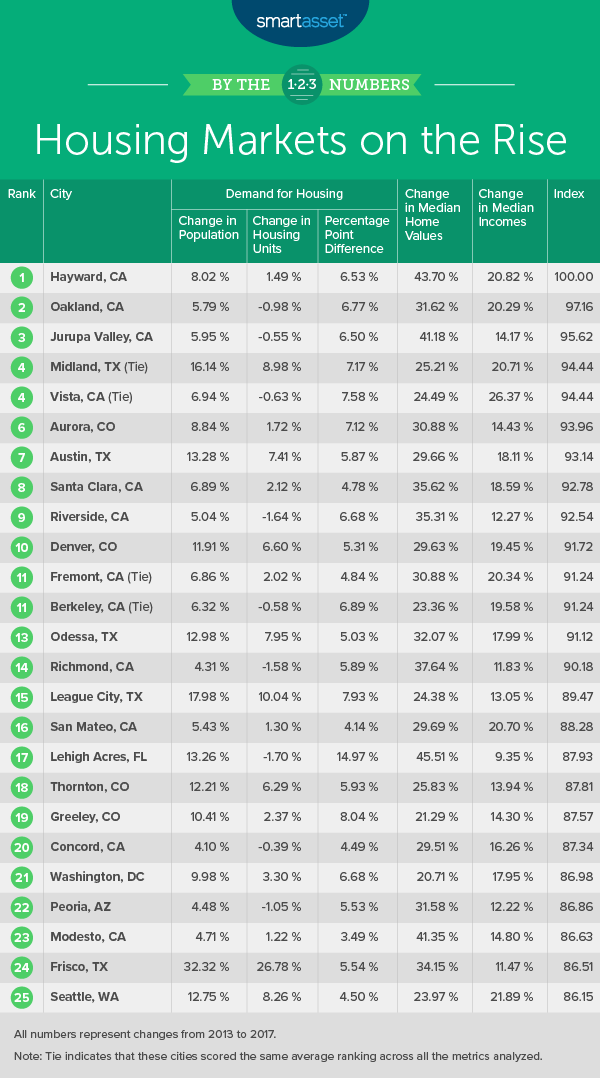 Data and Methodology
In order to rank the fastest-rising housing markets in the U.S., we looked at a total of 316 cities. Specifically, we looked at data for the following three factors:
Housing demand. This is the percentage point difference between population growth and housing stock growth from 2013 to 2017.
Home value growth. This is the percent change in median home values from 2013 to 2017.
Income growth. This is the percent change in median household income from 2013 to 2017.
Data for all metrics comes from the Census Bureau's 2013 American Community Survey and the Census Bureau's 2017 American Community Survey.
First, we ranked each city in each metric. Then we found each city's average ranking, giving equal weight to all metrics. Using this average ranking, we created our final index. The city with the best average ranking received a 100, and the city with the lowest average ranking received a 0.
Tips for Buying a Home
Don't stretch yourself too thin Homeownership is an appealing prospect for many Americans. But if the cost of buying a home means you are unable to save money, you might want to consider renting instead. Unforeseen emergencies can put your budget in a bind. It might be better to wait and save a larger down payment to lower your future mortgage costs.
Get an expert's opinion Buying a home is a big decision. To ensure you don't buy too much home or buy the wrong home, it is probably a good idea to talk to a financial advisor. If you are not sure where to find a financial advisor, check out SmartAsset's financial advisor matching tool. It will match you with up to three local financial advisors who fit your specific needs.
Questions about our study? Contact us at press@smartasset.com
Photo credit: iStock.com/Khongtham
The post Top 10 Rising Housing Markets 2019 Edition appeared first on SmartAsset Blog.
Information contained on this page is provided by an independent third-party content provider. Frankly and this Site make no warranties or representations in connection therewith. If you are affiliated with this page and would like it removed please contact pressreleases@franklyinc.com