If buying a home is hard for the average working American, it can be even more difficult for the average working woman. The average full-time working woman earns just 81% of what the average full-time working man does, according to the U.S. Census Bureau. For the average full-time working woman, then, hitting financial goals like homeownership means coming up with ways to bridge that 19% gap and have enough cash on hand in a savings account to make a down payment. Of course, in some cities compared to others, women have an easier time rising above financial challenges to buy homes.
In order to rank the places where women are buying homes the most, we looked at two factors. Specifically, we examined the percent of mortgages approved for women and compared that to the percent of mortgages approved for men. Check out our data and methodology below to see how we created our final rankings.
This is the second annual study of where women are buying homes. Check out last year's version here.
Key Findings
Women buy fewer homes on average than men Only in one metro area (Ithaca, New York) did women without cosigners buy more homes than men without cosigners. In some cities, on the other hand, men without cosigners bought homes three times as much as women without cosigners.
Women take on more risk when they buy homes Relative to income, women without cosigners are likely to take on more risk than men without cosigners when buying a home. In 348 of the 402 metros we analyzed, women had a larger loan-to-income ratio than men. In only four cities did women who were approved for a mortgage without a cosigner have a higher average income than a male in the same situation.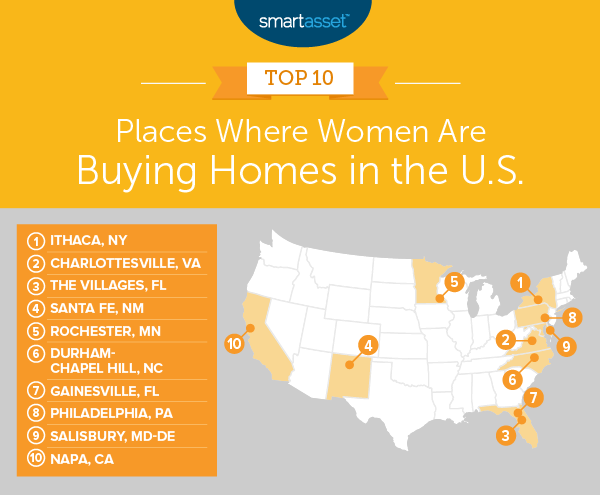 1. Ithaca, NY
In the Ithaca metro area, more women without cosigners bought more homes than men without cosigners. In total, 146 women managed to take on a mortgage to buy a home compared to 145 men. A difference of one is not much, and other indicators suggest this is not exactly the most equal home buying market. For example, the average male homebuyer we analyzed took out a loan nearly 27% larger than the average female in our dataset.
2. Charlottesville, VA
Charlottesville is a larger housing market than Ithaca. Across this metro area, we saw more than 1,100 mortgages approved for people without cosigners. By sex, men were approved for 585 loans, while women were approved for 567 loans. In total, that means women and men bought homes at similar rates with men just edging out the women by 3.2%. Income and mortgage disparities were smaller here than in Ithaca. The average male approved for a mortgage earned $102,000, while the average female approved for a mortgage earned $79,000.
3. The Villages, FL
The Villages is a top retirement destination and is attracting both male and females looking for a fresh start in a new community. Of the 700 or so mortgages approved for people without cosigners, 359 were approved for men and 346 for women. That means men bought homes at a rate 4% higher than women. Men and women buying homes here tend to have similarly sized incomes and receive similarly sized loans.
4. Santa Fe, NM
Men without cosigners bought 8% more homes than women without cosigners in Santa Fe, the fourth-smallest difference in the study. In more specific terms, women without cosigners were approved for 328 loans, while males without cosigners were approved for 354 loans. Women tended to take out larger loans than men, relative to income. The average female had a loan-to-income ratio of 2.98 compared to 2.80 for men.
5. Rochester, MN
The metro area of Rochester, one of the best cities for working women, is also one of the places where they are buying homes in similar numbers to men. In total, nearly 1,800 loans were approved for people without cosigners here, with men outnumbering women approved for loans by 9%. Women approved for loans had an average income of $65,000, while men approved for loans had an average income of $78,000.
6. Durham-Chapel Hill, NC
Durham-Chapel Hill is the second-largest housing market in our top 10. In total, more than 4,000 homebuyers without cosigners were approved for mortgages here. Men outbought women on homes by 9%. Reflecting the relative cost of living, mortgages here tended to be on the high side. For both men and women, the average loan was greater than $200,000.
7. Gainesville, FL
Gainesville is a university town located in northern Florida. Men were approved for 12% more mortgages than women in this metro area. In total, women without cosigners were approved for 801 loans compared to 897 for men. This was one of the more affordable metro areas for those without a cosigner to buy a home. Both men and women had an average mortgage-to-income ratio below 2.6.
8. Philadelphia, PA
Philadelphia is by far the largest metro area to crack this top 10. Nearly 11,000 mortgages were approved to homebuyers without a cosigner. Men without cosigners got 13% more loans than women without cosigners. In Philadelphia, like in every other metro area on this list, men tended to out-earn women. In turn, they used that income to buy more home, all while managing to keep their loan-to-income ratio below that of women.
9. Salisbury, MD-DE
In ninth is the Salisbury metro area that straddles the Delaware-Maryland border. This metro area had the ninth-lowest purchasing parity for homes between men and women without cosigners. Overall, data we analyzed showed men outbuying women by 14%. This metro area did have the lowest income disparity between men and women in the top 10, though.
10. Napa, CA
Wrapping up the top 10 is Napa, which is probably more famous for its wine than its high prevalence of female homeowners. In total, 375 mortgages were approved for residents buying homes without cosigners. By sex, 200 men without cosigners were approved for mortgages, while 175 women without cosigners were approved for mortgages.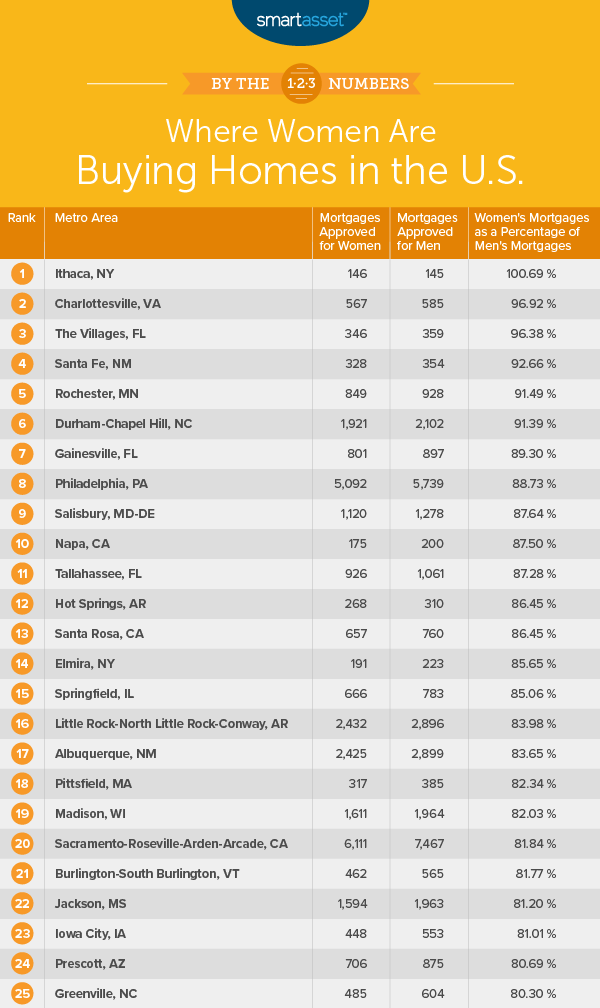 Data and Methodology
In order to find the places where women are buying homes, we looked at data for 402 metro areas. Specifically, we compared them across the following two metrics:
Number of mortgages originated to women.
Number of mortgages originated to men.
For each metric, we only counted mortgages that were used to purchase homes that were to be occupied by the owner and were secured by first lien. In order to isolate men and women to create a comparison, we also only analyzed home loans people secured without a cosigner. Data for both metrics comes from the Consumer Finance Protection Bureau's Home Mortgage Disclosure Act database.
In order to rank our metro areas, we divided the number of mortgages originated to men divided by the number of mortgages originated to women. We then ranked based on this figure.
Tips for investing in a home
Be prepared You will need to prepare for being a homeowner long before you decide to become one. Depending on where you live, not only will you need to have a down payment, but you will also need to pay upfront closing costs. Those can range from 4% to 10% of the cost of the home.
Extras can hurt Unlike renting when you usually have just your rent and maybe your utilities to worry about, owning a home comes with a few more surprises. For one, along with your mortgage, you will be responsible for property taxes, which can be hefty. Another concern might be home repairs. If you recently purchased an older structure, you will want to budget it in any necessary upgrades or changes you need to make to your new home.
Ask an expert Odds are you will never buy something as expensive as a home. So when making your home purchase, why not take your time and talk to an expert? A financial advisor can help you budget for retirement, your children's college fund and the home of your dreams. If you are not sure where to find the right financial advisor, check out SmartAsset's financial advisor matching tool.
Questions about our study? Contact us at press@smartasset.com
Photo credit: iStock.com/eclipse_images
The post Where Women Are Buying Homes the Most 2019 Edition appeared first on SmartAsset Blog.
Information contained on this page is provided by an independent third-party content provider. Frankly and this Site make no warranties or representations in connection therewith. If you are affiliated with this page and would like it removed please contact pressreleases@franklyinc.com